We Clean
OFFICE & COMMERCIAL PREMISES
CAR PARKS
PUBS & CLUBS
DOCTOR SURGERIES
VETINARY SURGERIES
HOUSING ASSOCIATION & TRUSTS
LOCAL AUTHORITY PREMISES
General Services
OFFICE FURNITURE CLEANING
WATER DAMAGE RESTORATION
FLOOD CLEANUP
FIRE & SMOKE RESTORATION
ODOR CONTROL
FABRIC CLEANING
CARPET CLEANING
TOILET AND WASHROOM CLEANING
OFFICE FURNITURE CLEANING
STAIN PROTECTION
ANTI-STATIC TREATMENT
Biohazard Services
PUBLIC AND PRIVATE PROPERTIES
BODY FLUID REMOVAL
DEODORISATION
DECOMPOSITION RESTORATION
HYPODERMIC NEEDLE COLLECTION
VEHICLE SANITATION
VOID PROPERTY CLEARANCE
Service Guarantee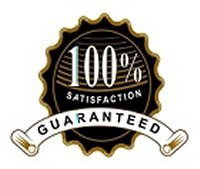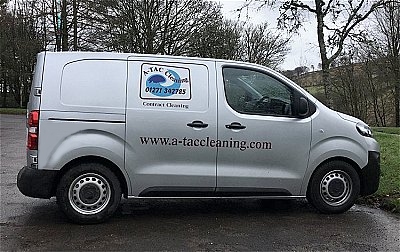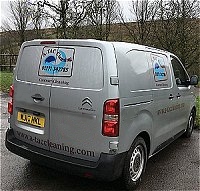 Services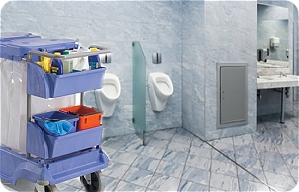 A-TAC Cleaning is the most reliable Technician - Specialised /contract cleaning service in Devon. With cleaning contracts spread throughout Devon and Somerset. YOU will receive the most professional, competitively prices & a top class clean. GUARANTEED!
A-TAC Cleaning operate a green policy using environmentally friendly cleaning products & we work with our clients to recycle materials & reduce waste, thereby managing our joint effect on the environment.
A-TAC Cleaning focus on understanding and responding to specific challenges set by each of our clients, and adopt a partnership approach that delivers long term value and relationships. A-TAC Cleaning will work with you to design a solution and rigorous processes that are tailored to suit your business. In fact changing environment we will review and update these solutions regularly.
A-TAC Cleaning recommends getting a head start on a healthier and cleaner home or business. For those tasks that require a specialist (i.e. carpet, upholstery and hard surface cleaning, biohazard clean up), hire only Certified professionals.
Washroom Cleaning
A-TAC Cleaning specialists will service your toilet and washroom cleaning requirement to an exacting standard. We provide specialist washroom services to help you maintain a safe hygienic washroom environment for your staff and the good of your business. Daily or weekly cleaning service options are available.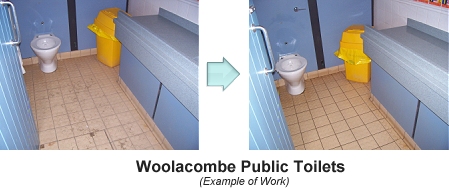 Fire & Flood Restoration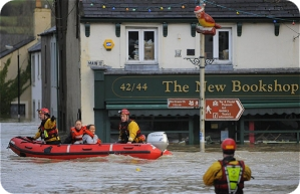 A-TAC Cleaning offer a complete fire and flood restoration service. Whether it is for the contents, building or both, as part of our fire and flood restoration services we offer a full cleaning and decontamination service. We ensure the removal of harmful contaminants and odours and prepare the site of the incident for any re-instatement work required.
Odor Control
A-TAC Cleaning will resolve issues of bad lingering smell in homes and buildings. Odors arise from many sources that may include animal urine, disaster contaminates, moisture problems or just plain soil. Routine cleaning, using an certified Technicians automatically removes the sources of general soiling odours. Pet urine decontamination normally requires more specialized deodorizing techniques. To remove musty odour associated with moisture, ultimately it's important to identify and correct the moisture (high humidity) intrusion problem. Odour associated with disaster contaminates (smoke, trauma events) requires highly specialized procedures and techniques.
Bio-Hazard Cleanup & Trauma Scene Cleaning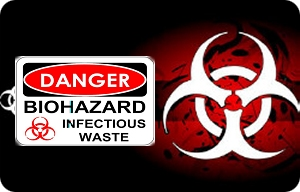 A-TAC Cleaning will work with domestic householders, landlords and commercial clients, hotel groups, solicitors and housing association.
We are registered & licensed waste carriers and therefore effectively tackle the scene from start to finish - from securing and assessing the scene to deep cleaning & decontamination of the area and removing contaminated waste for correct disposal - providing full documentation as to the cleansing, decontamination, removal and disposal processes.

Antimicrobial Agent Used
A-TAC Cleaning use the latest, safest, & strongest antimicrobial agent available. This product is safe enough to use in kitchens & yet strong enough for hospital theatres. It has a residual effect that continues to kill at the microbial level for days, weeks afterwards. It can be used in doctor's surgeries, school, offices, shops restaurants, residential homes, hospitals, farms. With a kill log of 6 (99.999999%) it disinfects and help to prevent the further spread of Swine Flu, C-diff, E-coil, MRSA, TB and many other pathogens